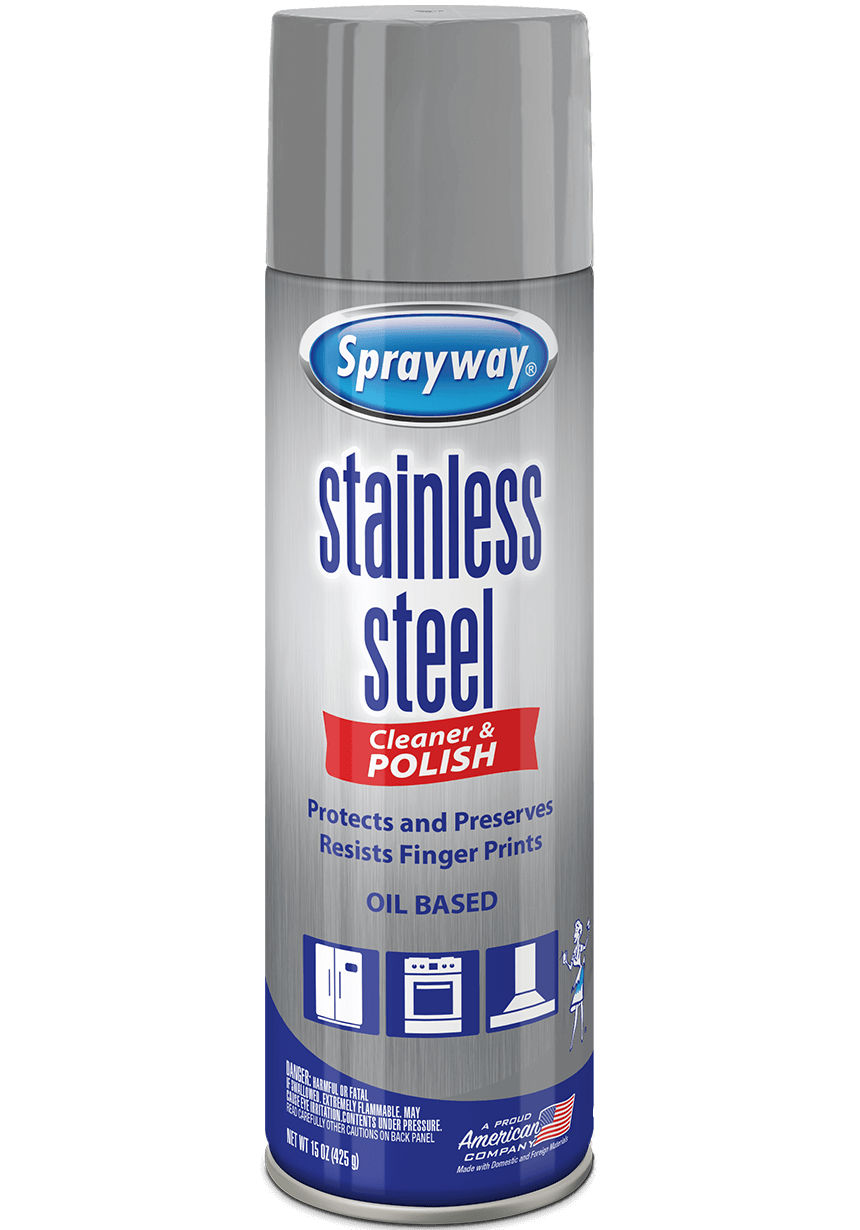 Sprayway Stainless Steel Cleaner Aerosol Spray (oil-based)
Sprayway Stainless Steel Cleaner cleans, polishes, and protects all types of stainless steel surfaces. The oil-based formula cleans and coats to protect and enhance the appearance of stainless steel appliances and surfaces.
Cleans and coats

Protects stainless steel

Resists fingerprints

Foaming action
Item UPC:
0 41911 00841 9
Availability: out of stock
Price:
Sprayway Stainless Steel Cleaner (oil-based) leaves no streaks and resists fingerprint smudges. Use it regularly to prolong your stainless steel factory finish. It also works great on stainless steel window frames, trim, kick plates, doors and on chrome surfaces. Cleaning stainless steel doesn't have to be hard when all you have to do is spray , use a microfiber cloth, and wipe clean! Follow along the grain of your appliances when using our cleaner polish and a soft cloth to get a smudge and streak-free look on your dishwasher, fridge, or sink.
Specially formulated for use on stainless steel fixtures, equipment, or trim
Cleans, polishes, protects stainless steel without scouring
Resists fingerprints, grease, and water spatter; preserves factory finish
Removes old or heavy accumulation of greasy film, food spatter, or oil stains
Not for use on cooking utensils
Tips
A little Sprayway Stainless Steel Cleaner and Polish goes a long way. Just spray a small amount on a clean cloth and wipe it on the surface to be cleaned. Re-wipe and gently buff to leave a shine. Use Sprayway Stainless Steel Cleaner and Polish regularly to keep your stainless steel appliances and surfaces looking showroom-new!
Avoid using abrasive sponges or scrubber pads. If you are cleaning an appliance front, refer to your owner's instruction manual on the best type of cloth to use for cleaning and wiping the surface.
Prevent possible spots and stains by avoiding hot water on a clean surface.
Wipe down large areas in an S-shape pattern (side to side while moving downward) for consistency and smoothness of luster. Then, flip over your wiping cloth and wipe in the same S-shape pattern again to help remove any remaining cleaner you missed on the first wipe. This will also give the stainless steel its best shine.