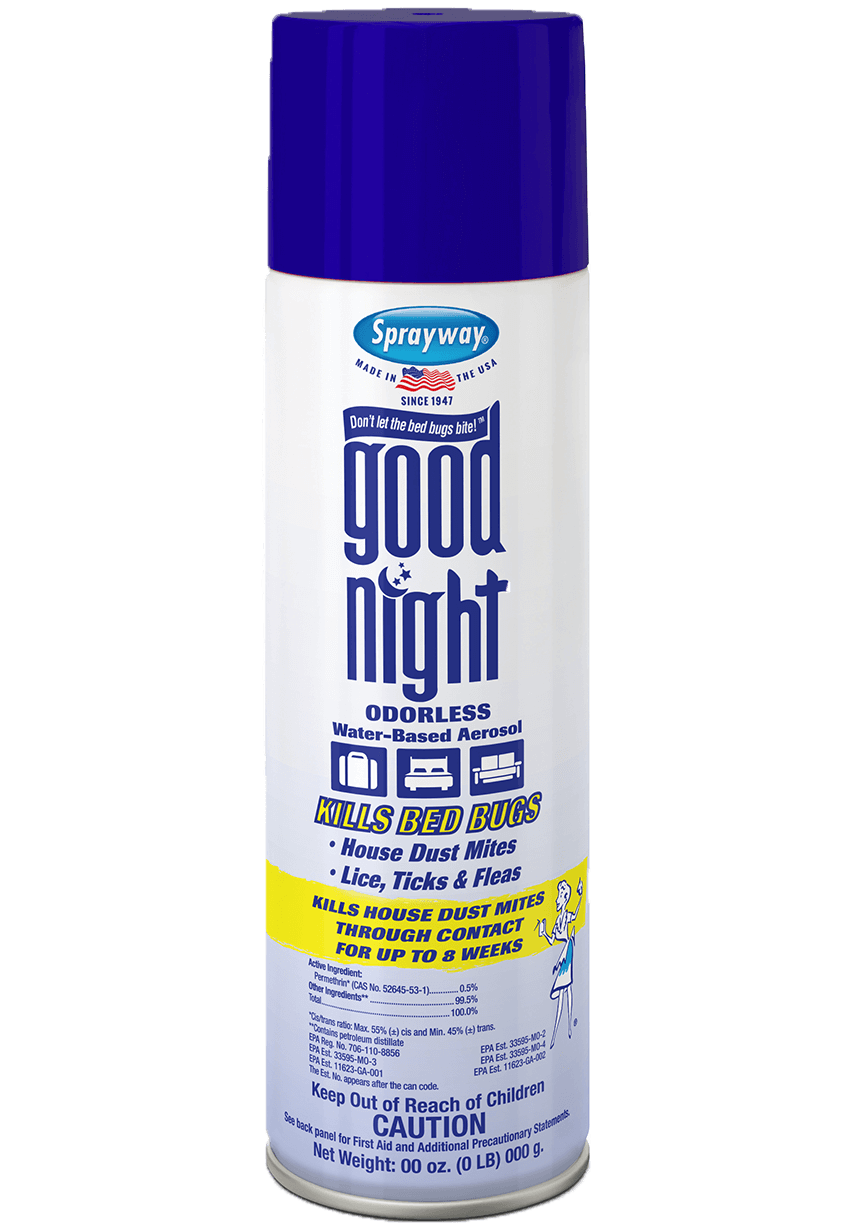 Good Night Bed Bug Spray
Good Night Bed Bug Spray is odorless, water-based, EPA registered and can be used in homes, dormitories, motor homes, hotels, or wherever you sleep. Ideal for bed bug control and bed bug prevention, as well as various other pests.
Eliminates:
Bed Bugs

Lice

Ticks

Fleas

House dust mites
Item UPC:
0 41911 00003 1
Availability: out of stock
Price:
Good Night Bed Bug eliminates lice, ticks, fleas, house dust mites, and bed bugs on contact for up to 8 weeks.
Bed Bugs: Treat even the toughest bed bug infestation. These pesky insects can cause a range of effects, from no physical signs of a bite to small bite marks to allergic reactions. While not considered dangerous, their presence may cause itching and loss of sleep. 
For treatment, spray mattresses, particularly around tufts and seams. Take bed apart and spray it into all joints. After mattress is dry, cover with mattress cover and sheet. Treat baseboards, moldings and floors. Retreat if an infestation occurs, but not more than once every 2 weeks.
House Dust Mites (Dermatophagoides spp.): Sprayway Good Night Bed Bug Spray controls house dust mites that may cause asthma, hay fever, rhinitis, watery eyes, and sneezing. 
One treatment lasts up to 8 weeks, Vacuum entire area once dry. Since vacuuming stirs dust up into the air, those with allergies should have another person vacuum or should wear a dust mask and use a vacuum with a high-efficiency particulate (HEPA) filter. Upholstery: Prior to treating the entire article, test the product in an inconspicuous area to insure dyes will not bleed. Hold container upright with the nozzle facing away from you. Depress valve and spray from a distance of 8-10 inches. Do not use on delicate fabrics. Allow the furniture to thoroughly dry before using it.
Fleas & Ticks: Fleas can transmit bacteria through bites to both humans and animals as well as carry microscopic parasites that can cause even more diseases. Ticks are most known for spreading Lyme disease, ticks can also spread Ehrlichia, Anaplasmosis, tapeworms, and Cat Scratch Fever.
For treatment, remove and thoroughly clean or destroy pet bedding. Spray pet's sleeping quarters, bed, the entire floor and floor covering, paying special attention to cracks and crevices, baseboards, windows and door frames. Infested upholstery furniture may also be treated, test upholstery or drapery fabrics in an inconspicuous place before treating the entire article. 
Lice and Louse Eggs: While not considered a medical hazard, they can lead to itching which if excessive, can increase the chance of a secondary skin infection. They are transmitted through shared clothing such as hats, scarves, or towels. Sprayway Good Night Bed Bug Spray can be used on those articles to prevent further infestation.
Prior to treatment, test in an inconspicuous area for possible staining or discoloration. Inspect after drying, then proceed to spray entire area. Allow sprayed articles to thoroughly dry before use. Spray only those garments and parts of bedding including mattresses and furniture, that cannot be either laundered or dry cleaned. Do not use on sheets or pillowcases. if lice infestation occurs on humans, use a product labeled for use on humans. 
Tips
Don't forget to pack Sprayway Good Night when camping. Our 3oz bed bug spray is perfect for travel and will help protect you against bugs before they invade your sleeping bag! Just lightly mist Sprayway Good Night on the inside and outside of sleeping bags before even leaving your home.

Look for Sprayway Good Night in our TSA friendly 3 oz. travel size container. Suitcases are especially susceptible to transporting bed bugs across countries and into your home so be sure to spray suitcases before leaving your home or hotel to get rid of bed bugs.

A little bit goes a long way. Lightly spray affected areas with our bug eliminating formula, never soak it. Also remember to spray in cracks and crevices, as well as bed frames mattresses and box springs as most bed bugs hide in areas they won't easily be seen.

After using Sprayway Good Night on a couch or other furniture be sure to vacuum the area once it has dried. This will get rid of all the bugs (even the most resistant bed bugs) that Sprayway Good Night eliminated.

For blankets and sheets, lightly spray Sprayway Good Night onto the whole surface. Once dried, be sure to thoroughly wash them to get rid of all leftover critters.